Event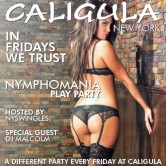 IN FRIDAYS WE TRUST ::: NYMPHOMANIA 2018
Location:

Astoria, NY

Venue:

Caligula NEW YORK

Length:

10:00 pm – 04:00 am
Caligula NEW YORK PRESENTS IN FRIDAYS WE TRUST ::: NYMPHOMANIA 2018
Calling ALL Naughty NYMPHOS to Caligula NEW YORK! The Friday Night home of MFM, threesomes, foursomes, MOREsomes, Cuckold, and GANGbangs!
Friday February 9th 2018
Sexy Couples & Singles Welcome!
DOORS OPEN 10:00PM-4:00AM
Hosted by
NY Swingles
Location
Brand NEW On-Premise Club!
CALIGULA NEW YORK
'SECRET' Location, ASTORIA NY 11105
516.301.7800
This Is A Couples & Singles Event
SPECIAL Guest DJ
DJ Malcolm
Admission
Couples $60 ($80 AFTER 11pm)
Single Ladies $25
Single Gentlemen $100
Dress Code
Ladies – Dress as SEXY as you desire!
Gentlemen – Dress to IMPRESS!
You MUST sign up on SLS or make a Reservation Online in order to be given our 'SECRET' location!
We are a B.Y.O.B ('Bring your OWN booze') Establishment!
FREE Sodas & Mixers!
FREE Light Snacks!
On-Premise Security Provided!
See You There!
The Management
Caligula NEW YORK
An On-Premise Experience Like NO Other!